Nakashima Timeline
1905
George Nakashima is Born
In Spokane, Washington, George is born to a family that claims samurai ancestry on both sides. His parents had immigrated to America from Japan and settled in Seattle.
1929
George's Education
George graduates from the University of Washington with a degree in Architecture and wins a scholarship to the Harvard Graduate School of Design. After discovering that Harvard's program is based on theory rather than practice, he transfers to MIT, in search of a more solid grounding in engineering.
1930
Life in France
George wins a scholarship to study abroad and earns a diploma at École Américaine des Beaux Arts, Fontainebleau. Living in Montparnasse, George sees two pieces of French architecture that will profoundly influence his life and work: the cathedral at Chartres and Le Corbusier's Pavillon Suisse in Paris.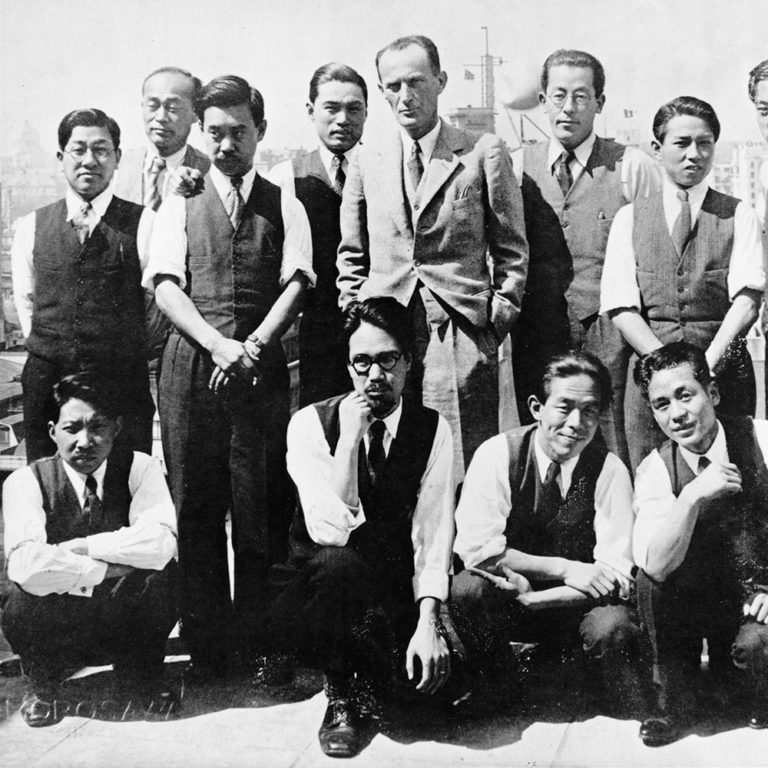 1934
Work with Antonin Raymond's Firm
George joins Antonin Raymond's architecture firm in Tokyo, which integrates Western technology with Japanese architectural forms. Through his experiences at the firm, George arrives at a deeper appreciation of Japanese culture and design traditions. His young colleagues include Kunio Maekawa and Junzo Yoshimura.
1939
Golconda and Sundarananda
Arriving in Pondicherry, India, as a representative of Raymond's office, George designs and supervises construction of a major dormitory building, Golconda, which is the first reinforced concrete structure built in India. George becomes a disciple of the guru Sri Aurobindo and is given the Sanskrit name Sundarananda, meaning "one who delights in beauty."
1941
Marriage to Marion Okajima
George returns to the United States and marries Marion Okajima, a Seattle native and UCLA alumna whom he met in Tokyo. George decides to leave architecture to make furniture, and the newlyweds move to Seattle.
1942
Birth of Mira Nakashima and Internment
Mira Nakashima is born in Seattle, Washington. Shortly after her birth, the family is forcibly relocated to an internment camp in Minidoka, Idaho, alongside 120,000 other Japanese-Americans. The Nakashimas will remain there until 1943, when Antonin Raymond secures their release by ensuring George's employment on his chicken farm in New Hope, Pennsylvania.
1945
Nakashima and Knoll
George opens his own workshop in the garage of a cottage in New Hope and begins to design furniture lines for Knoll Associates, which connects the Nakashima name to a larger audience. Through his work with Knoll, George becomes friends with Harry Bertoia and Isamu Noguchi.
1946
New Hope
George barters for the Aquetong Road property in New Hope and begins construction of a shop and furniture business. With Marion as his business partner, the studio grows and George adds more buildings to the property.
1954
Kevin Nakashima is Born
Kevin Nakashima born in Doylestown, Pennsylvania. George adds a room onto the family home for Mira, as well as a showroom/office for Marion in which her sister Thelma lives for a year, taking care of both Kevin and the office. George eventually coins the term "Kevinizing" to describe the personal treatment given to the furniture by his young son.
1958
Pool House Prototype
As a hands-on project, George guides Mira, now in high school, through the design and construction of an architectural prototype of the Pool House on the New Hope property.
1963
Mira's Studies
Mira graduates from Harvard University cum laude, a member of the first class of Radcliffe College women to receive Harvard degrees. She moves to Japan to continue her architectural studies at Waseda University where she meets her first husband, with whom she will then move to Pittsburgh with their young family.
1967
Opening of the Arts Building
On the New Hope property, the Arts Building, built with a hyperbolic paraboloid shell roof, opens with an exhibition of pieces by the Lithuanian-American artist Ben Shahn.
1970
Mira Returns to New Hope
Enticed by George, who acquires a parcel of land across the street from the original property and constructs a house for her upon it, Mira returns to New Hope from Pittsburgh with her three young children. She begins to assist George with drawings for the shop, and crafts her own designs out of scrap wood.
1978
Kevin Becomes Officer
Kevin Nakashima becomes officer of George Nakashima Woodworker, S.A., working closely with Marion and carving signs with George.
1983
Publication of The Soul of a Tree
George publishes his book The Soul of a Tree with Kodansha International, granting readers an intimate look at his life, artistry, and philosophy.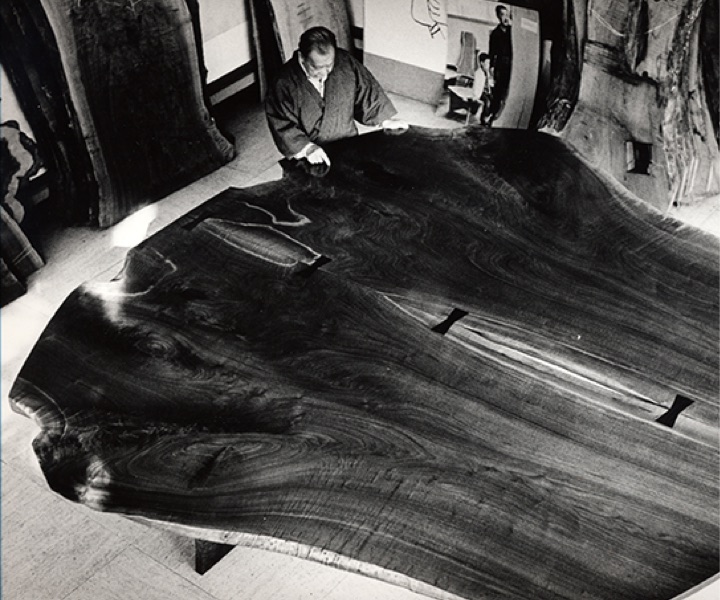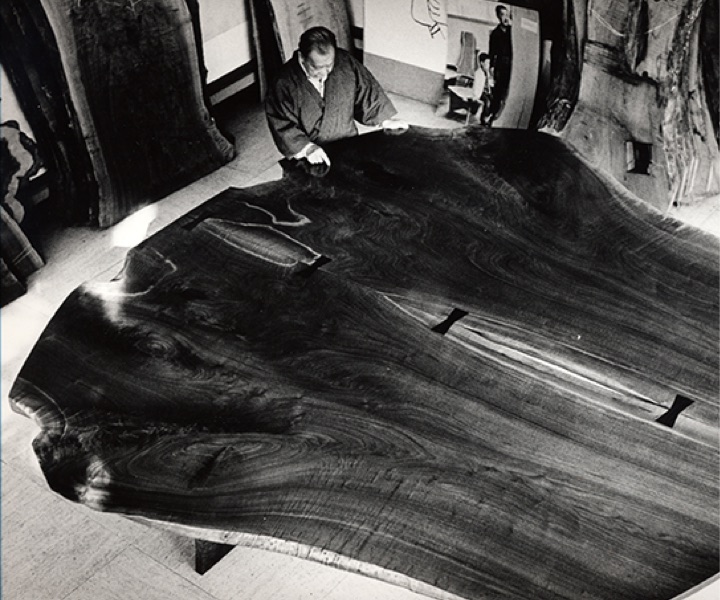 1986
First Peace Altar
George builds the first great Altar for Peace and installs it at the Cathedral of St. John the Divine in New York City.
1990
George Nakashima Passes Away
George dies at the age of 85, and Mira takes over as Creative Director of Nakashima Woodworkers.
1993
Nakashima Reading Room
Mira Nakashima designs and builds the Nakashima Reading Room, a permanent exhibit created in memory of her father at the Michener Museum. Much like George's international style, the architecture of the room makes use of traditional Japanese elements through a contemporary lens.
2003
Publication of Nature Form & Spirit
Mira publishes her book Nature Form & Spirit with Harry N Abrams, reflecting on her father's insights and legacy through a daughter's eyes.
2004
Marion Nakashima Passes Away
Marion passes at 92, leaving the Arts Building to the Nakashima Foundation for Peace. Mira becomes president of Nakashima Woodworkers.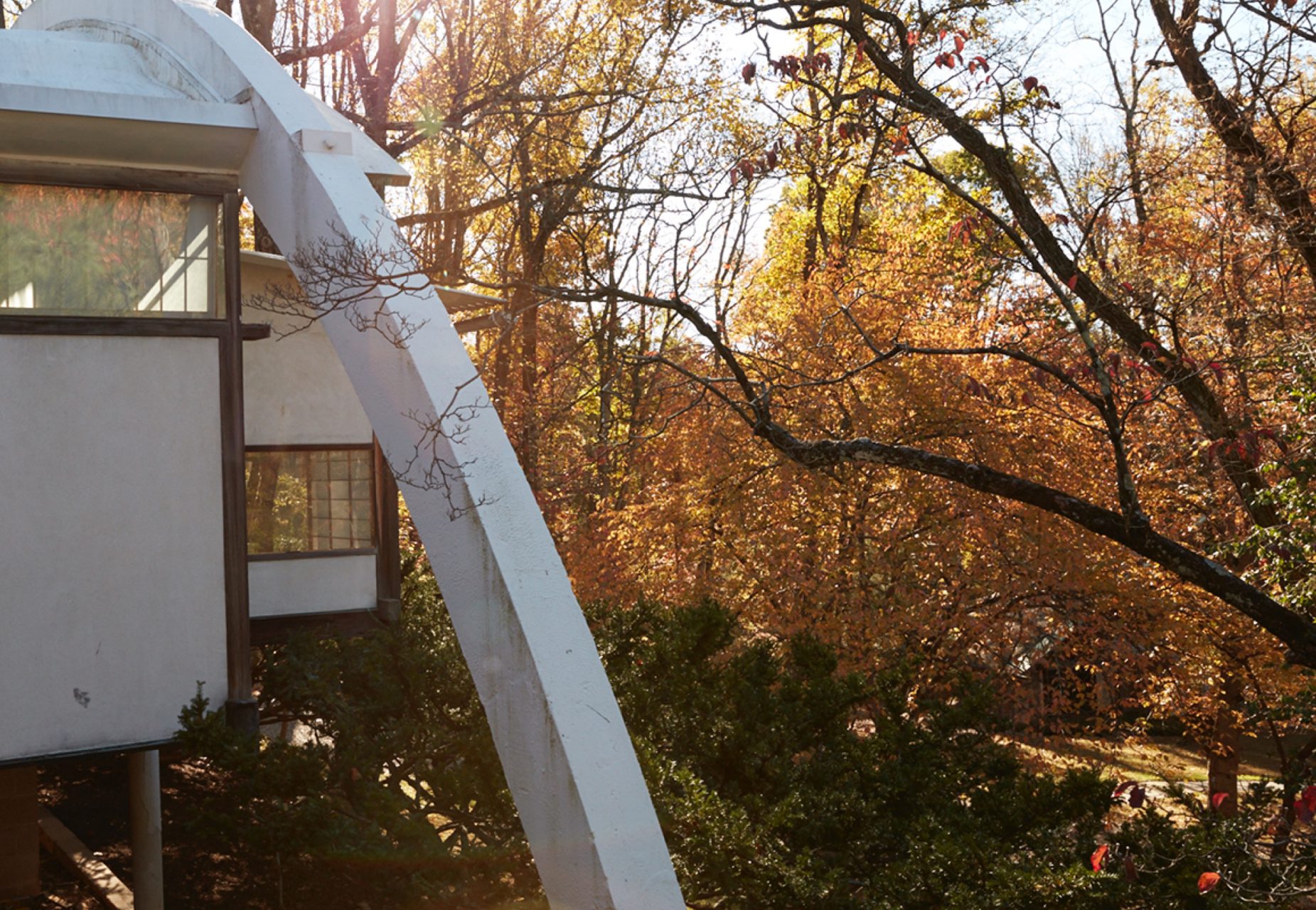 2008
Recognition of the Property
The Nakashima home, studio, and workshop in New Hope are listed on the Pennsylvania National Register of Historic Places. In 2014, the property is designated a United States National Historic Landmark and becomes a World Monument.
1964
Art building construction complete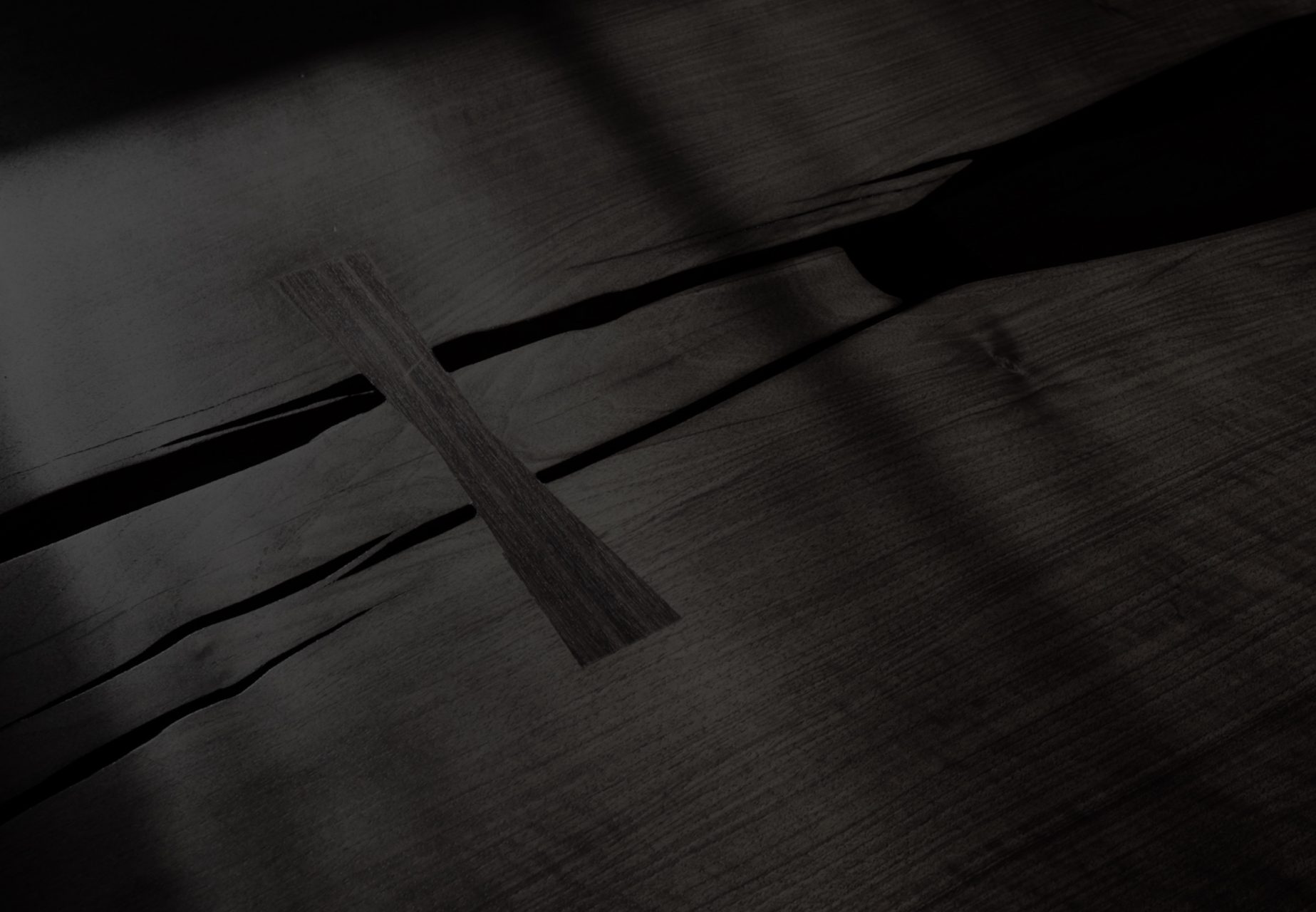 George Nakashima
George Nakashima began his furniture business as a reactionary movement against the practice of twentieth-century "modern" architecture, design, and art. Through his work, he called for a reclamation of the philosophy of earlier historical periods, in which the human eye and hand determined an individual's world in relationship to the universe, not the universe itself.
With a solid background in architectural history and design, engineering and building practice, George turned towards a simpler life in which direct contact with materials, tools, clients, and craftsmen was more important than the imposed egoism of the modern design world.
George's approach was that of an Integral Yogi: not only did he believe that the inherent beauty of natural materials like wood should be studied, understood and respected, but that the product should retain such materials' marks of individuality, as well as those of the craftsperson who brings it into being.
In his book The Soul of a Tree, George described his philosophy in which wood is not regarded as an inanimate object, but rather as a material which "lives and breathes." Through the woodworker's hands, wood takes on a life of its own. We continue to observe this philosophy when crafting the Nakashima furniture we produce today.
Mira Nakashima
Mira Nakashima's work grows from her father's philosophical legacy and expresses her own profound admiration for nature, having lived and worked in close contact with the wood that defines both her artistry and her daily experience. In her designs, Mira captures the form and spirit of the wood, which is capable of transmitting its sensitivity, peace, and harmony into the furniture and those who use it.
Trained in her father's craft from a young age, Mira received her formal design education at Harvard and within Waseda University's intensive atelier system, which imbued her conceptual process with a strong belief in the value of collaboration. Under her leadership, Nakashima Woodworkers has expanded its community of craftspeople and integrated design team, which adheres to the approach and philosophy established by George while imagining new, creative solutions.
In carrying on the Nakashima legacy, Mira was motivated to preserve and utilize the prodigious pile of custom-sawn lumber that her father left with his passing in 1990. Along with her daughter Maria and ex-husband Tetsu Amagasu, Mira conceived of a modified Pennsylvania "pole barn" structure to house the lumber on the New Hope property, which continues to be an invaluable source of raw material and inspiration.
Spurred by her deep respect for her father's ideals and process, Mira strives to appreciate, safeguard, and expand upon the traditions and knowledge integral to George's work, and to communicate through wood the beauty that is a manifestation of the divine.
Kevin Nakashima
From an early age, Kevin Nakashima embodied his father's belief that "Furniture should be lived with and not treated as something overly precious. A certain amount of scratching and denting adds character to a piece." His preternatural gift for "antiquing" a surface became known affectionately among the family as "Kevinizing," a practice that is prized and encouraged among all end-users of Nakashima furniture.
In the shop, Kevin's role evolved from sweeping and drilling holes to shaving spindles, assembling chairs, and making pencil holders, letter openers, and seat blanks. Having lived his whole life on the New Hope property, Kevin is keenly aware of the pleasure that comes with daily use of objects crafted with artistry and care.
More than any other, Kevin has long been attuned to the "personal relations" side of the Nakashima business. Always gregarious, he catches visitors – including artists, philosophers, scientists, and collectors – in conversation, facilitating the fruitful exchange of knowledge and stories.
Kevin's spirit and character naturally lend themselves to the joyful perpetuation of the Nakashima legacy, in the support and caregiving he's provided and in the memories he's preserved of his parents, their relationship, and their joint contributions to the studio.
Nakashima Team
Each team member brings a different gift to our work. Some have worked in construction, others have studied art, and some have crafted furniture in other places, but all are unified by a shared love and respect for George Nakashima's work, design approach, and way of life.
Jonathan Yarnall
, Craftsman
Jon received a Quaker education and came to Nakashima in 1974 in search of a job. He decided to devote a lifetime to following George's path and eventually married George's daughter, Mira. His careful attention has served the wood well; from his perch in the Chair Shop, he crafts fine pieces and dispenses mystic philosophy. His natural sensitivity finds full expression in the phrase "Silent Trees Speak."
Jaysond Neill
, Senior Designer
Jaysond joined the Design Department in 2018. He brought with him a background in architecture, interior design, and historic architectural restoration. He spearheads wood searches for new orders, as well as design development for unusual projects, creates hand drawings and supervises all furniture construction in the woodshop with Mira.
Alyssa Francis
, Craftswoman
Alyssa joined Nakashima in the Finishing Department in 1995 and has dedicated herself to learning as much as she can about furniture construction, details and history. Expert and exacting, she passes along with meticulous care the legacy of Nakashima furniture construction to the younger woodworkers since Jerry retired in 2020.
Michael Veith
, Craftsman
Michael came to Nakashima in 2010 after the dedication ceremony of the Peace Garden at Chandler Hall in Newtown, PA, which was designed by Mira and built by Michael's parents in memory of Marion Nakashima. Every project Michael works on has an exceptionally beautiful spiritual presence, reflecting the mind, hand, and spirit of the maker and allowing the intrinsic qualities of the wood to speak.
David Lipton
, Craftsman
Growing up in Doylestown, PA, David would ride his bike past the New Hope property, with its unique buildings and beautiful setting, and wondered what went on there. He joined Nakashima in 1999, where he works in the Main Shop, and his sense of both humor and humility allows him to flow seamlessly to whatever job needs to be done.
Richard Ganor
, Craftsman
Born and raised in New Jersey, Rick worked as an engineer for fifteen years before coming to Nakashima in 2005. In the Chair Shop, he crafts turned-leg chairs, intricate lamps, and various pieces for the showroom; his engineer's intellectual precision is evident in every piece.
Matthew Seezox
, Craftsman
Hired in 2001, Matthew works in the Chair Shop, where he builds conoid chairs, makes parts, and refinishes and repairs older items. He embodies Soetsu Yanagi's ideal of the "Unknown Craftsman" who quietly does the work that needs to be done.
Brandon Spector
, Craftsman
Thanks to a grant from the World Monument Fund, Brandon came to Nakashima in 2015 with a dual
role of woodworker and apprentice restoration carpenter for the property. With his artistic eye,
Brandon has worked his way up from making smaller objects for the gift shop to making large dining
tables, as well as helping to record, organize, select and kiln dry the wood in the storage sheds.
Justin Taylor
, Craftsman
Justin started as a groundskeeper in 2003 and is currently head of the Finishing Department. His awareness of the finishing procedure's impact on the environment, the furniture, and its end-users is extraordinary. Justin also faithfully tends the property's vegetable garden , has a knack for catching and releasing birds that get trapped in buildings, and has rescued the fish in the ponds from large snapping turtles.
Greg Mazur
, Craftsman
Greg came to Nakashima's in 2019. After working for nearly a decade with non-profits, he returned to school to study furniture building and honed his craft in both Pennsylvania and Maine. Greg brings his love of creation to life with every piece he makes, and humbly hangs a sign by his bench, "I don't design'em, I only build'em!"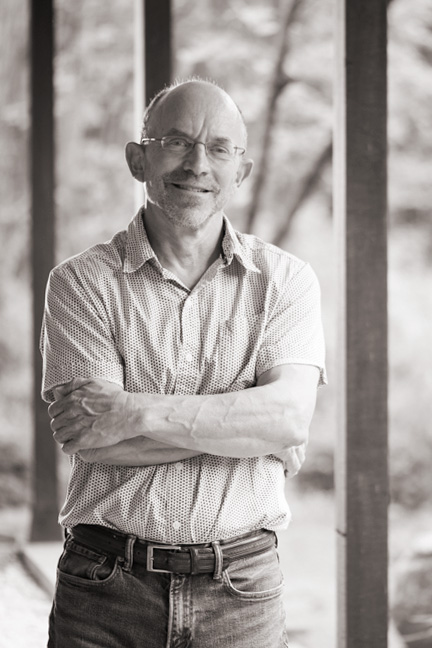 John Conver Lutz
, General Manager
A graduate of RIT, John worked at Thomas Moser for 17 years from the bench through design and administration before coming to Nakashima's in 2008. As General Manager, he has become an indispensable member of the team, establishing and maintaining organization, peace and harmony among a previously chaotic group of artisans.  He joined the Board of Directors in 2016. An excellent problem-solver and multi-tasker, John has hired talented younger woodworkers to ensure that Nakashima's has a clear path into the future, initiated our establishment as an historic site, makes sure that our buildings are maintained for future generations to enjoy, as well as scheduling production, shipping and taking care of furniture restoration.
Soomi Hahn Amagasu
, Sales and Public Relations
Soomi, Mira's daughter-in-law,  joined Nakashima's in 2002. In her two decades with the company, she has had the opportunity to learn about Nakashima's from the ground up by working in the office and assisting with events and Saturday Open Houses and tours. She has helped establish and maintain studio connections in her native Korea. Her pleasant demeanor and interest in clients make them feel welcome. She is the Public Relations/Sales Manager and is Mira's daughter-in-law.
Toshi Amagasu
, Showroom Assistant
Toshi, named after his great-grandfather George whose middle name was Katsutoshi, is pursuing his college education while also working at Nakashima's. Entertaining and outgoing like his great-uncle Kevin, Toshi is the only one of Mira's seven grandchildren who lives nearby.  He was happy to make his first Mira chair at 16 years old with help from the woodworkers, and he enjoys guiding the post-Pandemic tours of the property on Saturdays.
Maria Amagasu
, Board of Directors
Mira's only daughter, Maria grew up amongst the architecture, trees, boards and shops of George Nakashima Woodworkers. Maria's first job at Nakashima's was about 1980, and through experience working at the complex and what she has learned primarily from her mother and grandparents, Maria has an intimate knowledge of the business. She has a degree in architecture from McGill University and a Master of Architecture from the University of California at Berkeley. Maria has worked and lived in the United States, Canada, Japan, the United Kingdom, and India. Now specializing in heritage conservation, she joined the Board of Directors in 2022 to represent her siblings and looks forward to helping guide the business into the future.
Dave Long
, Archivist
With degrees from Penn State, an MPA from Cornell, and MLIS from Rutgers, Dave, has become the archivist at Nakashima. He quietly handles authentications, documentation and research for our team. Along with guiding tours, Dave initiated the renovation and organization of two archival rooms and often discovers little-known pieces of Nakashima history.
Karen Malda
, Bookkeeper
Born in Cornwall and raised in Dorset, United Kingdom, Karen took a circuitous route to Nakashima's. After shepherding four children through three countries, she turned her hand to bookkeeping. She ensures the bills get paid and payroll happens! Most of all, Karen enjoys watching the progress of the pieces in the woodshop.